Embodied Kabbalah
A book about Jewish mysticism for spiritual seekers of any background.
Order a copy: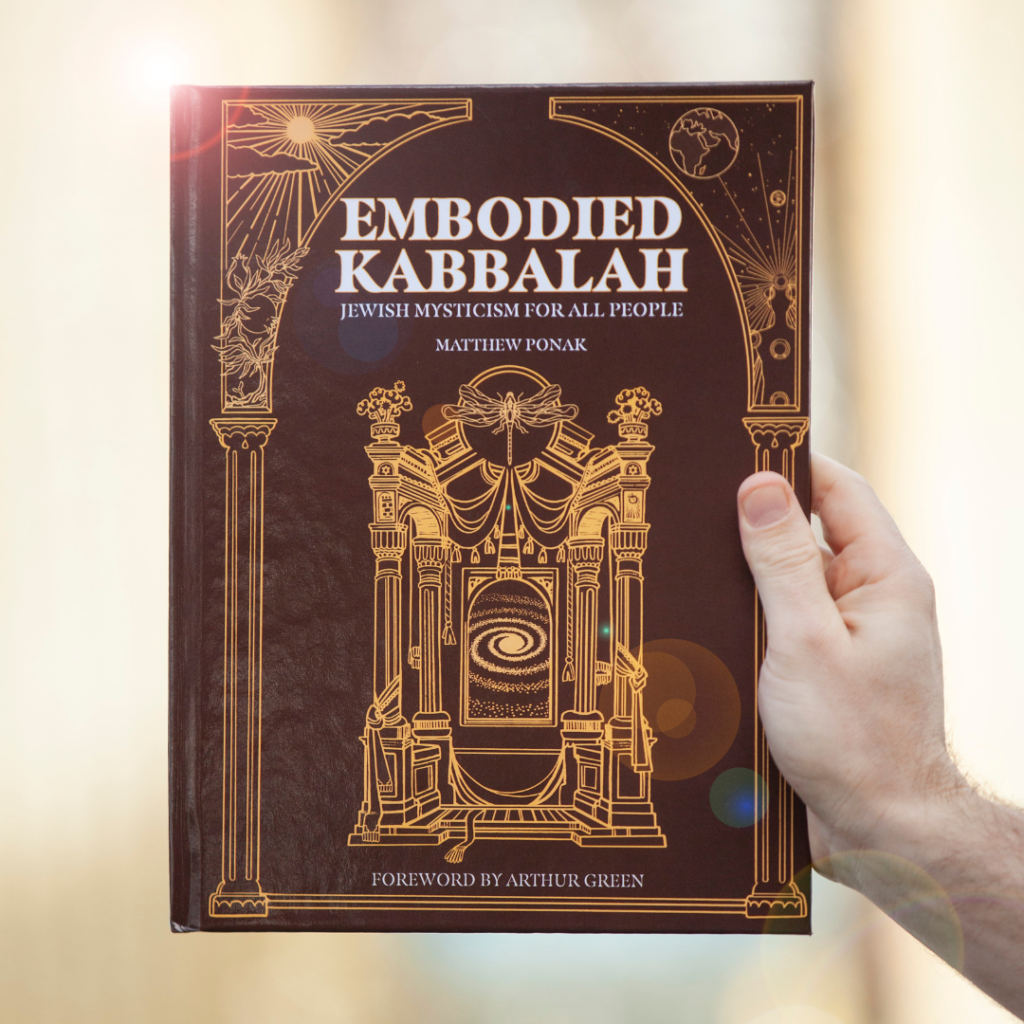 About
Touching Infinity with your feet planted in everyday, ordinary reality: this is the goal of Jewish mysticism. In this transformational work, Matthew Ponak brings forward essential teachings of Kabbalah and places them side-by-side with profound inspirations from our era and the world's great wisdom traditions. In an age polarized between materialism and spiritual bypassing, Embodied Kabbalah offers a vision that is balanced, nuanced, and hopeful.
Never before translated texts with lucid commentaries shed light on obscure traditions of kabbalistic mystical enlightenment. Fascinating descriptions of the paradoxical nature of Deep Reality are placed next to cautionary guidance against travelling too quickly on the road to expanded consciousness. Spiritual practices for grappling with depression and sadness come in tandem with illuminated poetry of what our world could look like if we all strove to be truly loving.
Using the stunning visual layouts of traditional Torah commentary, Ponak opens wide the gateway for Judaism to add its much needed voice to the universal quest for meaning, inner knowing, and rooted transcendence.
The foreword to Embodied Kabbalah was written by Arthur Green:
the renowned teacher of Jewish mysticism and winner of the National Jewish Book Award for Judaism for the World: Reflections on God, Life, and Love.
Praise for Embodied Kabbalah
"Rabbi Matthew Ponak's compilation of Kabbalistic and Hassidic texts entitled Embodied Kabbalah is a sumptuous offering for Jewish and non-Jewish seekers alike. Ponak's translations and annotations include much usable wisdom, including his own deep reflections and meditative practices that help readers internalize the mystical teachings of his authors. Ponak's edition is illustrative of the integrative approach of a new generation, and I celebrate the opportunity to include it in my studies and teaching."

~Rabbi Tirzah Firestone, PhD, author of Wounds into Wisdom: Healing Intergenerational Jewish Trauma
"An evolutionary text that heralds the dawn of a true age — one where
transcendence and immanence are indistinguishable from each other. This is the path that will save us — the path of the wholly holy. It's all
God, even the dust that falls from our awakening hearts. Highly recommended!"

~Jeff Brown, author of Grounded Spirituality and Soulshaping
"I just love this book. It's deep, profoundly educational and highly original. I've done a lot of reading about Jewish mysticism but Embodied Kabbalah has pulled me to an entirely new place of understanding and practice. This book is invaluable."

~Marilyn Paul, Author of An Oasis In Time: How A Day Of Rest Can Save Your Life
"Matthew Ponak's Embodied Kabbalah: Jewish Mysticism for All People is a treasure-trove of wisdom and insight. This beautifully formatted book surrounds carefully selected and explicated texts, which speak to integrated concerns of body, heart and spirit, with a sensitive modern commentary that brings these teachings to life for contemporary seekers. Readers of all stripes will enjoy this collection of spiritual practices and reflections from Jewish teachers across nearly a millennium!"

~Ariel Evan Mayse, Professor of Religious Studies, Stanford University, author of Speaking Infinities: God and Language in the Teachings of Rabbi Dov Ber of Mezritsh, and Rabbi-in-Residence at Atiq: Jewish Maker Institute
"Inspiring, deeply moving, and illuminating. Rabbi Matthew Ponak makes the mysteries of Kabbalah accessible to beginners and advanced spiritual seekers alike. Drawing from traditional kabbalistic sources and commentaries, readers are inspired to join the conversation. . . to think symbolically, intuit 'meaning' in the mystery and experience the Transcendent in body, heart and soul. Keep your journal next to you as you read this book, and make sure to jot down insights gained from listening to the silent voice of inner wisdom as it echoes within you."

~Dr. Beth Hedva, author of Betrayal, Trust and Forgiveness
"Kabbalah is a dense maze not to be entered into lightly. You need a guide steeped in Wisdom, and daring enough to turn into the unknown without assurance of finding a way out. Indeed, there may be no way out, only an ever-deepening way in. If you are up to the challenge, Matthew Ponak is the perfect guide and Embodied Kabbalah is a wonderful guidebook. Walk boldly. Step lightly."

~Rabbi Rami Shapiro, author of Judaism Without Tribalism