Embodied Kabbalah
Beit Midrash
An online community for learning Kabbalah in a grounded, relatable, and open-minded way.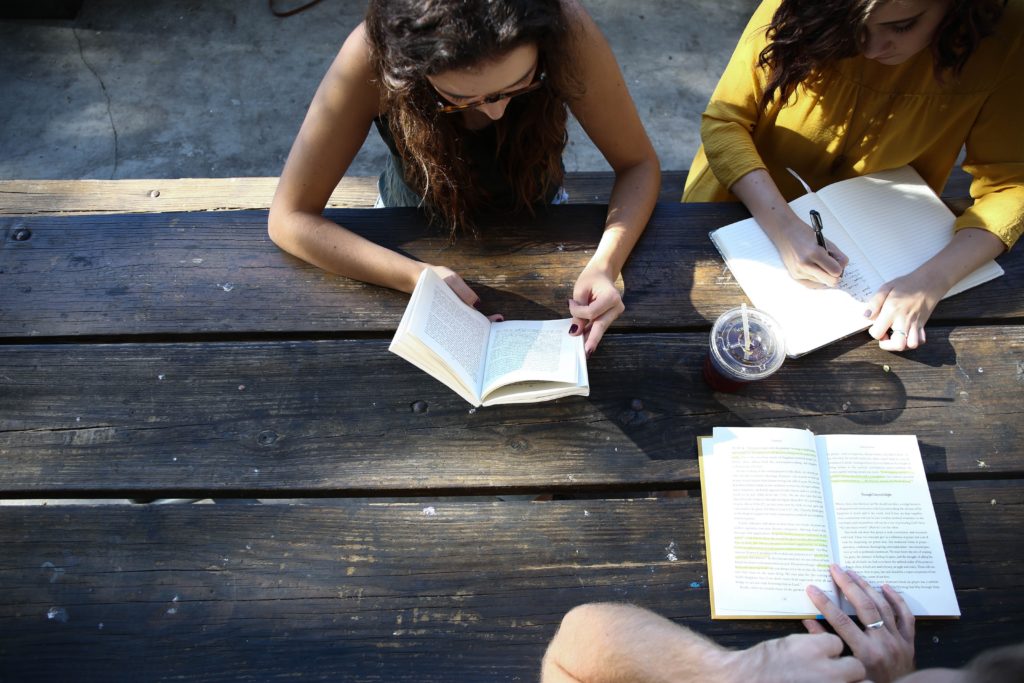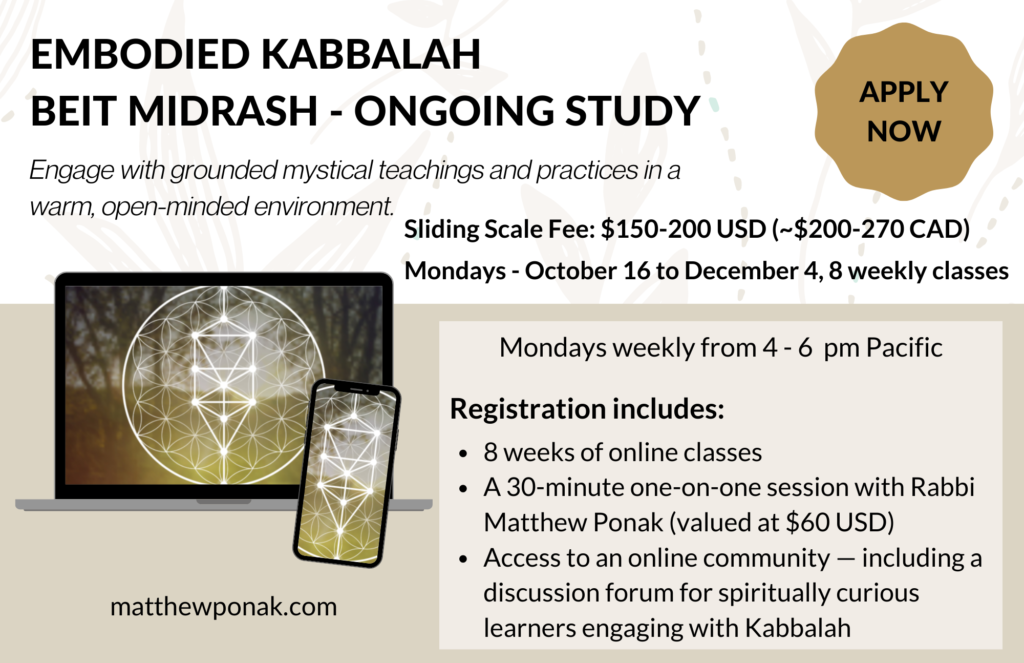 A Beit Midrash is a Place of Study
Many of us feel a degree of disconnection these days. Between the pandemic's isolating impacts, the busyness of modern life, and the deep individualism which drives our culture, there is a lot of inertia towards more independence and less shared space. The Beit Midrash — literally "house of study" — has been a steady, stabilizing and social approach to contemplative study for thousands of years. Founded on collective wisdom and shared inspiration, it is a place of ongoing learning that meets spiritual, social, and emotional needs.
Spurred on by requests from students and a desire to meet the needs outlined above, I (Rabbi Matthew Ponak) am offering an online meeting place for the ongoing study of Embodied Kabbalah.
In this communal setting, we first engage with foundational principles of Kabbalah. These are taught alongside core values like embodiment, integration, balance, courage, and kindness. Following these essentials, the Beit Midrash offers exploration into the deepening study of the many expressions of Jewish mysticism.
The Beit Midrash is a place of learning, growth, holy friendship, curiosity and the shared love of spiritual discovery. Judaism has always been a communal tradition and, as such, it is not just a transformational "vehicle," it is a caravan! The Embodied Kabbalah Beit Midrash is a mutually-supportive journey of seeking wisdom and striving to live conscious lives, together.
---
What is Embodied Kabbalah?
Embodied Kabbalah is an approach to Jewish mysticism that promotes inner-outer harmony, responsibility and self-awareness. It is driven by authenticity and compassion and is open to people of all backgrounds.
One of Jewish mysticism's greatest gifts to the world is its emphasis on balancing spiritual depth and everyday living. Rabbi Matthew Ponak's new book: Embodied Kabbalah (with a foreword from Rabbi Arthur Green) draws from nearly 1,000 years of Jewish sources to articulate a path that is both transformational and grounded. Judaism places great importance on daily responsibilities, healthy relationships, and the ancient obligation to be a good person; Jewish mysticism is no different.
---
In the first module:

Introduction to Jewish Mysticism

, students will…
engage with teachings and practices from Kabbalah and Hasidic mysticism which relate to:
(1) Body/mind/spirit connection,
(2) Integrating powerful spiritual experiences,
(3) Working with difficult emotions and challenging life circumstances,
(4) The ethics of spiritual leadership and
(5) The balance between personal choices and traditional practices in the lives of mystics.
Meet Rabbi Matthew Ponak
I am a teacher of Jewish mysticism, a spiritual counselor, and the co-founder of the Mekorah Institute—an online spiritual center for embodied practice. Ordained with honors as a rabbi at the neo-Hasidic Rabbinical School of Hebrew College, I also hold a Master's degree in Contemplative Religions from Naropa University. I live in Victoria, British Columbia, and am certified as a Focusing Professional to guide others to deeper self-knowledge and healing. My first book, Embodied Kabbalah, is a translation and commentary of 42 mystical texts from throughout the last 1000 years. I am the proud husband of Melina and the proud father of Orion and Sephira, two wonderfully joyful and creative kids.
As a teacher and counselor, I help students of diverse backgrounds tap into their own essential truths. In this ever-evolving information age, where big ideas and advice abound, the skills of a spiritual ally—sharing teachings with no-strings-attached and empowering people to become their most authentic selves—are a precious commodity.
I deeply value the balance between presenting esoteric teachings in a way that is readily accessible (and in English!), while also creating the context for individuals to find their own voice and thrive. It is incredibly important for me to be able to provide access to Jewish mysticism and wisdom to those who feel alienated, confused, or intimidated by traditional routes.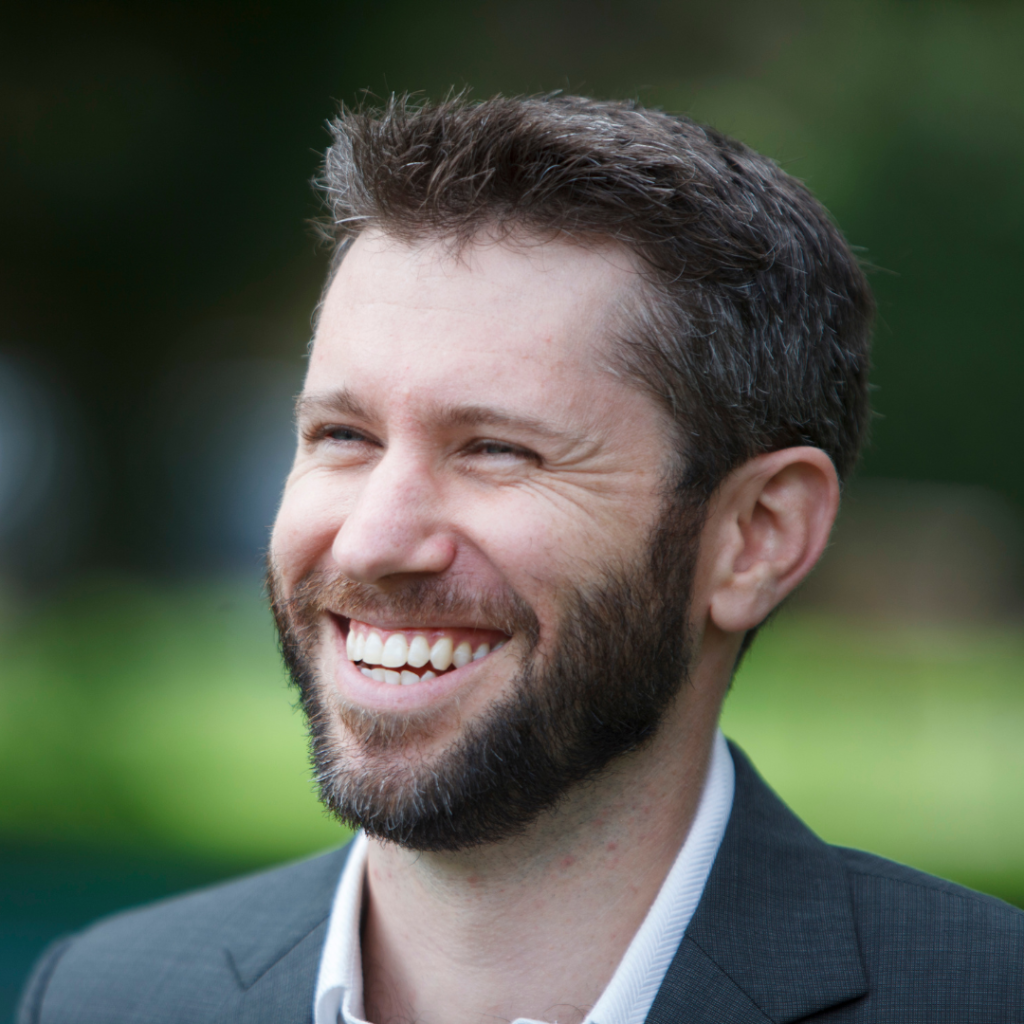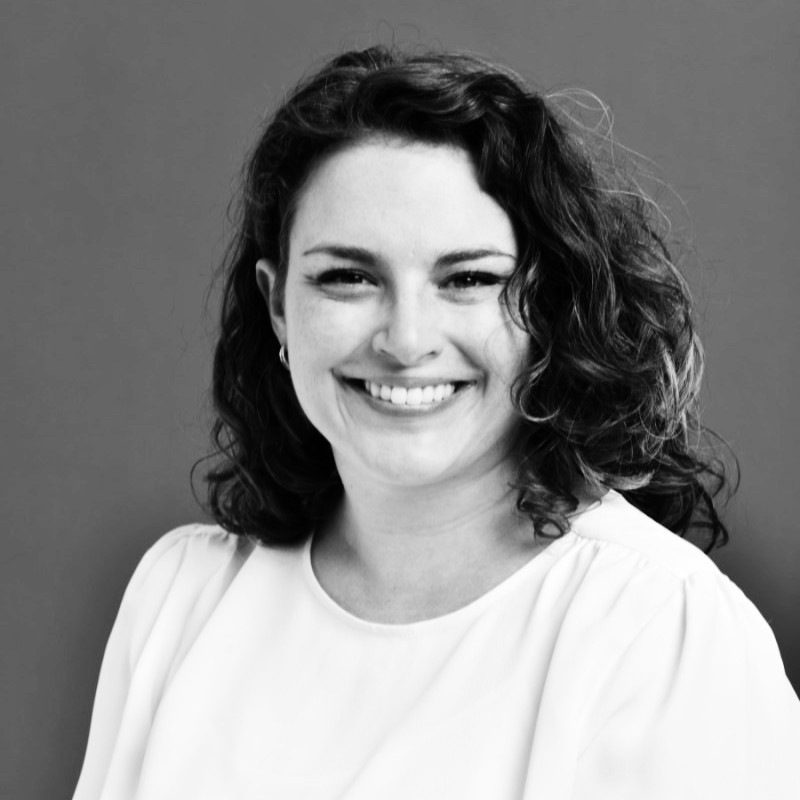 "Matthew has a warm-hearted and friendly approach as a teacher. His classes offer a combination of engaging scholarship, open-mindedness, and spiritual depth. I've been reconnecting with my Jewish roots and have found Embodied Kabbalah really meets me where I am at."
~ Emma Forman, Program Specialist at Trauma Research Foundation
"Matthew's evolving vision of an evolving Judaism steps beyond the limits of a supposed Jewish essentialism, shatters the imposed conformity of an imagined Jewish continuity, and allows the iconoclastic daring of Jewish creativity to reinvent who is and what it means to be a Jew in the 21st century."
~ Rabbi Rami Shapiro, author of Judaism Without Tribalism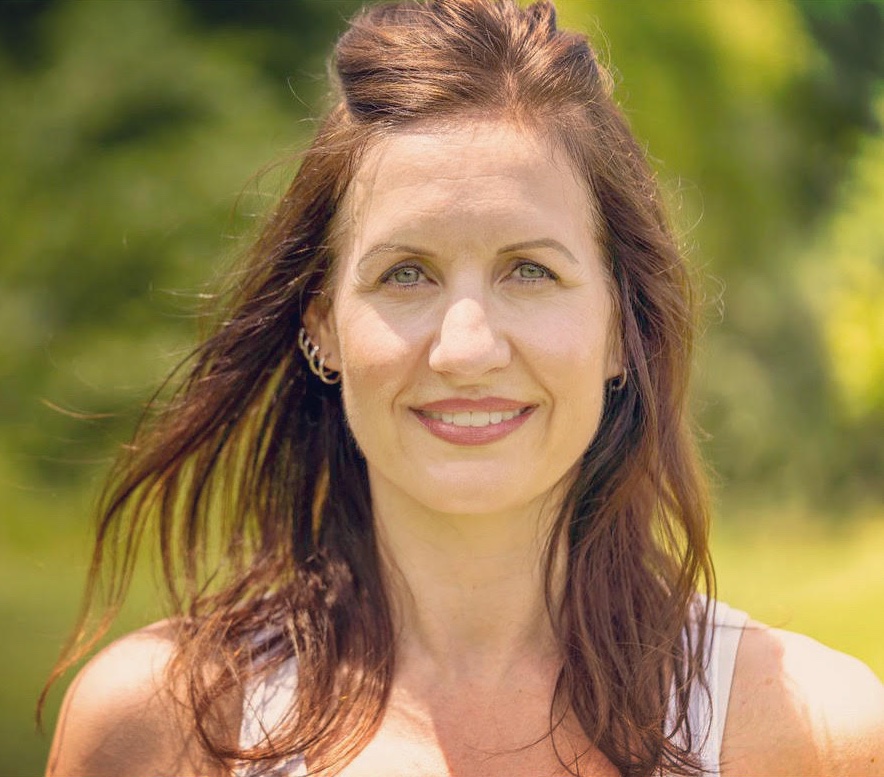 "Matthew is a wonderful teacher who makes class accessible to students of all kinds from any religious or non-religious background. He injects humor and stories into his teachings to keep everyone engaged, but is able to communicate a powerful message. I highly recommend taking any class that speaks to you!"
~ Kim Varieka, Varieka Personal Training and Yoga